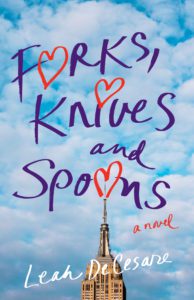 There are three kinds of guys: forks, knives, and spoons. That is the final lesson that Amy York's father sends her off to college with, never suspecting just how far his daughter will take it. Clinging to the Utensil Classification System as her guide, Amy tries to convince her skeptical roommate, Veronica Warren, of its usefulness as they navigate the heartbreaks and soul mates of college and beyond.
Beginning in 1988, their freshman year at Syracuse University, Amy and Veronica meet an assortment of guys—from slotted spoons and shrimp forks to butter knives and sporks—all while trying to learn if the UCS holds true. On the quest to find their perfect steak knives, they learn to believe in themselves—and not to settle in love or life.
Order links:
Amazon
Kindle
Audible
Libro.fm
Barnes & Noble
Books a Million
Indie Bound – I love supporting local booksellers
Target
---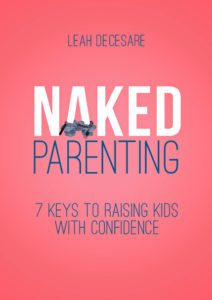 Naked Parenting: 7 Keys to Raising Kids with Confidence, is parenting stripped down to the bare basics focusing on seven keys to raising kids who are self-sufficient, respectful, and resilient. Nudity not required. It is a sensible, realistic and practical guide for parents with children of all ages.
Fun, honest, and easy-to-read, it provides creative tips and ideas that any parent can start using today. The principles of Naked Parenting provide a framework to guide parenting decisions and actions within one's own style of parenting. Simply explained, with straightforward strategies that parents can apply to issues of all kinds. Understanding these seven keys will help you apply them across the countless scenarios of parenting through all stages and ages.
Order Links:
---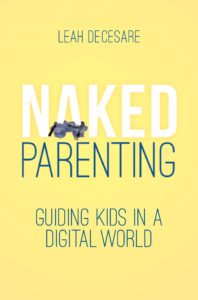 From social media, apps, video games, texting, cyberbullying, privacy, and identity theft, guiding kids in a digital world can be overwhelming. Parents need concrete strategies to manage technology in our homes in ways that fit our family values and culture.
The seven keys of Naked Parenting – love, honesty, communication, responsibility, discipline, mistakes, and gratitude – guide the discussion in this book on technology and cyberspace.
It's hard, if not impossible, for parents to keep up with the pace of technology. Forget juggling work, kids, commitments, volunteer jobs, and laundry. The good news is you don't need to be literate in every new thing that crops up. However, you do need an awareness and a parenting framework that adapts to whatever comes next.
We need ways to manage technology in our homes in a big picture, broad way that will teach our children good digital citizenship, online responsibility, self-regulation, and how to benefit from technologies while staying safe. It's a huge and important job. So how do we tackle all of that? Naked Parenting: Guiding Kids in a Digital World gives usable tips applicable broadly to the digital world from a parenting perspective instead of from a techie viewpoint.
Order Links:
Save
Save
Save
Save
Save
Save
Save
Save
Save
Save
Save
Save
Save
Save
Save
Save