'Book Fairies' leave books for unwitting recipients to enjoy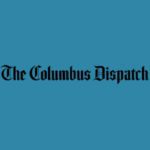 by Eric Lagatta
The sun shone brightly on a recent Wednesday morning as Megan Perkins combed High Street in the Short North seeking "hiding places" for two books.
With copies of the Leah DeCesare novel "Forks, Knives and Spoons" in hand, she made her first "drop" a store ledge outside Clothe Ohio, a retailer that donates clothes to charities with every purchase.
For the second, Perkins eventually chose a sidewalk flower box.
"Everyone is aching for spring — something bright and cheerful," said the Hilliard resident, positioning the hardbound book and then snapping a photo of it with her cellphone.
Both books contained a sticker with a simple request: "Take this book, read it and leave it for the next person to enjoy." Included was the social media hashtag #ibelieveinbookfairies.
The message gets to the heart of the mission of Book Fairies, an international organization with chapters spanning the globe, including 37 U.S. states.
Perkins started the Ohio chapter 10 months ago after seeing a video in which English actress Emma Watson hid several books around London for International Women's Day.
Perkins, a 32-year-old hospice pharmacist, has since recruited about 20 to 25 volunteers throughout Ohio to join her. She maintains active Instagram and Facebook accounts, which she uses to hint at the locations of books and to share the posts of the unwitting folks who find them.
Eagle-eyed pedestrians might spot the books in any public setting throughout central Ohio. Perkins and her helpers have hidden titles near the Franklin Park Conservatory and Botanical Gardens, Equitas Health and various area businesses.
Those who find them are often pleasantly surprised.
That was the case for North Linden resident Jodi Shultz, who came by a copy of "A Discovery of Witches" by Deborah Harkness at the Palace Theatre, where she works as a house manager.
"I thought it was kind of cool," she said. "I don't usually get the chance to sit down and read a whole lot but I figure there's no time limits on this book so I figure I may as well take it with me and drop it off for someone else."
One Instagram user who found a copy of "Marley & Me" outside the Graeter's in Westerville recently opined: "These Book Fairies apparently want to make me ugly-cry." Read more…