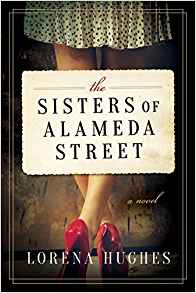 I'm happy to have met fellow 17Scribes author, Lorena Hughes, this past October in New Mexico at the Women Fiction Writer's Association retreat. She's the author of the fantastic historical fiction novel, The Sisters of Alameda Street. 
What was your timeline from drafting to publication? Tell us about your publishing journey.
People are often surprised to learn that this novel took nearly 20 years from conception to finished product. The idea came to me around 1998. I envisioned the novel as a period telenovela and started writing it in Spanish (I still have the notebooks to prove it!) I wanted it produced in Mexico or Colombia, where some of my favorite soaps were made, but then I married an American and moved to the United States. I set my novel aside and got a job in graphic design (my other passion), but the characters kept coming back to me from time to time. I would jot down ideas during my lunch break and weekends, but then I had two babies and my writing had to wait.
Around 2005, I decided that the wisest and more practical plan would be to write this story in English as a novel. And so, I began the long process of giving my idea the structure of a novel and writing it in my second language. By 2007, I had a finished product. I went to my first writers conference and pitched it to a lovely editor from Berkley. I was certain that I was going to leave that conference with a contract in hand! Little did I know that it would take three critique groups, two complete rewrites, and a whole new structure to work—not to mention axing a myriad of subplots and beloved characters! In the meantime, I wrote two other novels and eventually got an agent to represent one of them. The agent in question couldn't sell my second novel, and so I found another agent to represent Malena's story. It would take two years to polish it completely and get an offer! The rest is history, or rather, the beginning of my career as a published author.
Can you tells us about one of your characters. Who is the inspiration?
My protagonist was the hardest character to write. It's strange how the sisters came to me immediately. I had written their individual stories early on in my process and they hardly changed in all the years it took to write the novel. If anything, they became sharper in my mind, but kept their essence through all those drafts. Amanda was always the widow, the former tango dancer who must fight the demons of her youth; Ana was always the peacemaker and rule-follower trapped in an unhappy marriage; Abigail was the romantic, fragile woman who would be forever young and beautiful, and who, from an early age, seemed to live in her own world; and Alejandra was always the artist who quietly defied the established gender roles of the patriarchal society where she lived.
Malena—my main character—was for a long time the vehicle to get to know these fascinating women, the key who opened the door to their pasts but little else. During many drafts, she served a purpose and I didn't pay too much attention to who she really was—until editors determined that this was a problem. I started focusing on her. The more I studied and molded her, the more she became a fleshed out character. She acquired traits of several people I knew: compassion, warmth, recklessness, an unfulfilled dream, and—the cherry on top—a certain aversion to blood, germs and dirt. I confess that one of my closest friends was the inspiration for this last quirk, which I think is what makes her most endearing.
Can you share a cut scene or a tidbit you removed?
This was the original prologue, which unfortunately, didn't make it to the final draft:
Ecuador, 1942
The young woman ran her fingers over the baby's smooth forehead and examined every one of her features: the thin eyebrows framing her eyelids, her snub nose, her peachy cheeks and her crescent chin. A sweet blend of milk and powder wafted from her skin. How could this perfect creature have grown inside of her? How could she have feared this moment for so long, when now it felt so right? 
A soft knock on the door sent her heart to a frantic beating.
Not yet, please.
She clutched the sleeping baby to her chest.
A woman in her early sixties entered the room, wrapping a purple woolen poncho across her chest. Deep lines framed her mouth, and her hair was secured in a tight bun. Doña Eva looked exactly as her son had described her.
She approached the bed in a plodding, deliberate gait, and looked at the baby.
"It's time," she said.
The young mother looked at the baby one last time. This was harder than she'd expected it to be. She wanted to ask Doña Eva to wait, just for a moment, just until the baby opened her eyes. She needed to memorize everything about her.
But Doña Eva extended her arms.
The young mother brought her lips to her daughter's forehead and gave her a gentle kiss, then lovingly covered the baby with a yellow blanket.
Doña Eva took the baby in her arms and wrapped the poncho around her tiny body.
"She'll be fine with us." Her lips remained parted, as if she had something to say, but then she turned toward the door.
"Wait…"
The older woman stopped.
"Name her Malena, like the tango."
Doña Eva nodded before stepping out. Complete silence returned to the room. The girl wrapped her hands around her bare arms, her empty arms. She was incomplete. Her chest compressed. She never saw the color of her daughter's eyes.
What was your job/career before becoming a novelist?
Before becoming a novelist, I was a visual artist. I had studied painting and photography in college (with a double major in mass communication and journalism), but I never thought I would become a writer as I didn't take a single literature course in college! I worked for some years in advertising, graphic design, and newspaper illustration before I discovered my true vocation.
What is something people would be surprised to know about you? 
People may be surprised to know three things about me: one, I once interviewed Latin megastar Ricky Martin! It was so exciting to see how much thought he put into answering all of my questions. Two, I was an extra in a miniseries, for which I apologize to my family members who had to watch the entire show to spot ONE of my curls in a scene (but I was there nonetheless!), and three, I once won a free balloon ride!
About the book:
When Malena Sevilla's tidy, carefully planned world collapses following her father's mysterious suicide, she finds a letter–signed with an "A"–that reveals that her mother, who she thought dead, is very much alive in San Isidro, a quaint town tucked in the Andes Mountains. Intent on meeting her, Malena arrives at Alameda Street and meets four sisters who couldn't be more different from one another, but who share one thing in common: all of their names begin with an A.
To avoid a scandal, Malena assumes another woman's identity and enters their home to discover the truth. Could her mother be Amanda, the iconoclastic widow who opens the first tango nightclub in a conservative town? Ana, the ideal housewife with a less-than-ideal past? Abigail, the sickly sister in love with a forbidden man? Or Alejandra, the artistic introvert scarred by her cousin's murder? But living a lie will bring Malena additional problems, such as falling for the wrong man and loving a family she may lose when they learn of her deceit. Worse, her arrival threatens to expose long-buried secrets and a truth that may wreck her life forever.
Set in 1960s Ecuador, The Sisters of Alameda Street is a sweeping story of how one woman's search for the truth of her identity forces a family to confront their own past.
Connect with Lorena: 
Website
Twitter
Facebook 
Goodreads
BookBub