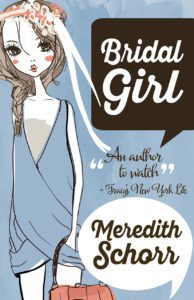 Happy Pub Day to Meredith Schorr! Meredith and I recently spent a fun and inspirational weekend together at a writer's conference in Boston and I'm so happy to have her here today to celebrate the release of her newest novel, Bridal Girl.
Tell us about your writing process. Do you have a favorite writing place or routine? 
I head straight from my day job as a trademark paralegal in a law firm to my second (but favorite) job as an author. I typically write on weekday evenings between 6 and 8, during my lunch hour, and on weekends. Because it's so difficult to balance a full-time job with writing, promoting my novels, a social life, and general life obligations, I don't commit to daily word counts, but I do set what I think are reasonable monthly word counts of 10k. My favorite place to write used to be my neighborhood Coffee Bean and Tea Leaf because it was conveniently located and open late with lots of seating and Wi-Fi. Sadly, it closed down in 2016. Since then, I mostly write in my apartment, but I've been trying to find another favorite coffee shop.
What is your favorite charity or cause? How did you get involved?
LLS (Leukemia and Lymphoma Society). My boss, mentor, and best friend died from Leukemia in 2014. I was already involved in the cause prior to his death, but I became more vested after he lost his battle. I am the captain of a friends and family team for LLS's annual Light the Night Walk. My team is named, "Alan's Angels."
What do you value most in life?
A support system of friends and family members I trust, respect and whose company I enjoy. Life is too short to spend with people who don't make you happy, add value to your life, or accept you for who you are while supporting your journey to be better.
Tell us about your best date. What about a worst date?
One of my best dates I can recall was about ten years ago, with a lovely man named Terry. On what I think was our fourth date, Terry took me to Sugar Loaf, an Arts and Crafts village in Warwick, New York. We spent the afternoon strolling the quaint town, checking out the local artistry, window shopping, and stopping for a glass of wine/snacks. Later that night, we went to a drive-in-movie theater where we accidentally parked in front of the wrong movie—an awful horror flick. We spent the duration of the film making out in his car. Terry put a unique spin on everything we did, and I still consider him one of the ones who got away.
As far as worst dates, I've had way too many to choose. One guy spent the entire night on his phone, claiming it was work (at 5pm on a Saturday afternoon). Another offered to cook me dinner, but when we went grocery shopping for the ingredients, he tossed the most expensive items in the shopping cart and left me with the bill (close to $100). And, of course, I have a collection of online dates under my belt where the guy in the profile pictures looked nothing like the in-person fellow.
What advice would you give to an aspiring writer?
So much! I would tell her to write what inspires her, not what she thinks will sell. I'd urge her to welcome constructive criticism and seek out critical readers (critique partners, beta readers, editors) of her work before publishing. I'd encourage her to join author groups and find her writing tribe. I'd warn her to manage her expectations regarding support from family and friends, money, sales, reviews, and just about everything else. And I'd tell her to keep writing, no matter what. I could go on.
About Bridal Girl:
Sassy book blogger-turned-author, Kim Long, thought her life couldn't get any pinker when she received a two-book publishing deal and a marriage proposal in the same night. If only she could drown out the conflicting opinions of her overzealous bridal party. If only everyone would adore her first book—or she'd take her fiancé's advice and stop reading reviews.  If only her fiancé's past would remain there rather than threaten their future. The pressure is on and the clock is ticking. Will Kim ever write "The End" on her sophomore novel? And, will she and Nicholas make it down the aisle to say those two precious words: "I do?"
Connect with Meredith: 
Instagram: @meredithschorr