I want to share something with you that is very dear to our hearts. In the fall of 2013, our whole family fell in love.
It was late on a Sunday night when the van pulled into our driveway. We greeted three tired girls and their chaperone who would be our house guests for a week. They are part of a choir called Destiny Africa and were orphans, taken in by the Kampala Children's Centre in Uganda.
Arms squeezed us in hugs in the dark before we even lifted a bag to help them inside. Within moments, Claire, Shivan and Mary Phiona were laughing and playing a game with Ali, Michael and Anna, while Dorothy settled into her room. In those very first hours before climbing into bed, we already knew that we would be forever touched by these children.
They moved into our home for a week and into our hearts for a lifetime.
While the girls lived with us, we learned about their home at the Kampala Children's Centre and the love, education and family it has given them in fulfilling the Centre's mission of giving the best to the least. They cooked for us, taught us some Lugandan words and traditions and I loved that they called me "Auntie." I kissed them good-bye each morning and we welcomed them home each night, even when they returned after midnight, just as we would for our own children. We laughed and ate together, joked and prayed together.
As we ate breakfast just the two of us one morning, Dorothy, the first house mother at KCC, shared her story with me and a glimpse into the horrors of the war, poverty and HIV issues that have terrorized Uganda. It is unimaginable to our developed-nation-minds. Only a couple of years younger than me (more years younger than Nick), it was a startling to contrast our lives.
Can you imagine villages where all the adults have died of AIDS leaving children caring for children, trying to survive. Can you visualize not having access to a doctor in an emergency, or even just for a cough, or being gravely misdiagnosed?
While the kids were with us, the Kampala Children's Centre lost a beloved child, Martine. Hers was a beautiful life lost that most certainly would have been prevented with proper and preventive medical care. Martine's story magnifies the need for the Kampala Children's Centre for Hope and Wellness, a fully equipped medical center on the KCC campus to serve the children there as well as the people in the surrounding community.
Because the need is great and urgent, Nick and I jumped up to help and together, with a great group, we set the goal to raise the $70,000 needed to build this center by June 2014. By May that year, we had raised $82,000. Since then, we've hosted more children, held another fundraising concert on the last Destiny Africa tour in 2015 and the Hope Centre has been built. This past March, Ali and I, along with my parents, traveled to Uganda and walked through its halls – it was powerful!
The Centre is open and currently serving the children and staff at KCC on the lower level, however, we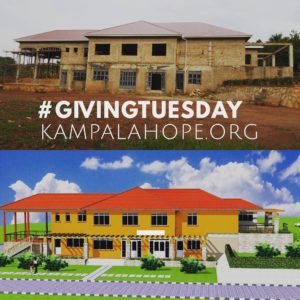 have begun a final campaign to raise $25,000 by the end of this school year to complete the upper level and the exterior walkways so it may begin to serve the community at large.
On this #GivingTuesday – or any day – please consider a donation.
Your gift will make a meaningful, life-changing impact on countless lives. The Kampala Children'sCentre for Hope and Wellness will incorporate immunizations and communicable illness prevention, health and wellness education, an on-site lab, surgical capabilities as well as dentistry and a pharmacy.
For the children who shared our home, for those who have never left Uganda, for the bright dancers and drummers and for the mothers, babies, fathers and families in the surrounding community of Wakiso, please help us build hope – The Kampala Children's Centre for Hope and Wellness.
Thank you!
With love,
Leah
Click here to donate
Click here to learn more and see the stages of construction and the latest picture of the Centre. You can contact me through my contact page here, via email at leah@leahdecesare.thirdeffectmarketing.com or through the Kampala Hope contact page with any questions.
© Copyright Leah DeCesare 2014