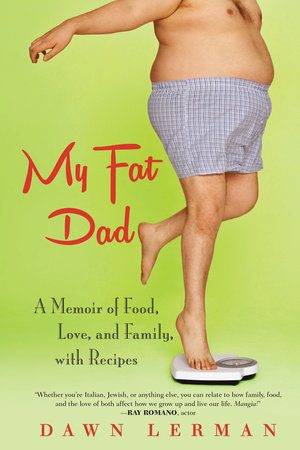 In her best selling book, My Fat Dad: A Memoir of Food, Love, and Family, with Recipes (Berkley Books), New York Times wellness blogger and nutritionist Dawn Lerman shares her food journey and that of her father, a copywriter from the "Mad Men" era of advertising.
Dawn spent her childhood constantly hungry. She craved good food as her father, 450 pounds at his heaviest, pursued endless fad diets, from Atkins to Pritikin to all sorts of freeze-dried, saccharin-laced concoctions, and insisted the family do the same—even though no one else was overweight. Dawn's mother, on the other hand, could barely be bothered to eat a can of tuna over the sink. She was too busy ferrying her other daughter to acting auditions and scolding Dawn for cleaning the house.
My Fat Dad is as much a coming-of-age memoir as it is a recipe collection from Dawn's upbringing and culinary adventures. The recipes include some of her grandmother's favorite traditional Jewish dishes, but also healthier interpretations of them ranging from gluten-free, to dairy-free, to kosher, to vegan. In spite of growing up in such an unhealthy eating environment (or perhaps because of it), as an adult Dawn found a passion and a career as a nutrition consultant.
Today, her father weighs 220 pounds and is a vegan. How he got there is a story she shares in her touching memoir.  Food is no longer a barrier that keeps them apart, but a bridge that keeps them connected. And now Dawn is now the one regularly sending recipe cards to her father's house, just as her grandmother Beauty did for me as a child.
Q&A With Dawn Lerman – My Fat Dad Author
I'm always curious with memoirs, how did your family react to you writing My Fat Dad?
Both of my parents love the book and are very supportive—my dad, always an ad man, told me "You've come a long way baby."  My mom, the ultimate stage mother, shares passages from the book wherever she goes. She just wishes there were more pictures of her in the center of the book.
What is your favorite recipe from your grandma Beauty that is in the book? Why is it your favorite?
I think it would have to be my grandmother Beauty's chicken soup. It was in her kitchen inhaling the smells of fresh dill that I learned what it felt like to be loved and nourished. I spent every weekend until I was nine years with her. We would cook and shop, and we created the most wonderful stews and baked goods. After we moved from Chicago to NYC for my dad's life changing job as a creative director at McCann Erikson, where he would be the head writer on Coke and Nescafe, Beauty sent me a recipe card every week with a 20-dollar bill. That way the warm sweet smells from her kitchen could always stay with me. Many years later my daughter remarked that when cook Beauty's recipes, it is like she is still here with us. Passing down recipes keeps traditions and fond memories alive.
We recently discovered that we both attended Syracuse University, I didn't study writing and my life took a different path before coming back around to what I always wanted to do as a child – write novels. What did you study at SU and how does that relate to your life today?
I studied TV and Film production, but then went on to study drama therapy and nutrition at NYU. What
I learned is everyone has a story to tell.  It just often takes a long time to find our voice. I never set out to write a memoir I just wanted to create a cook book for busy moms. While I was compiling recipes I realized that each one of them had a memory attached to it. The memory was as important as the recipe —it was the people I was with at the time, where I was when I tasted it, and the smells that made it so important.
Nourishing yourself and your family is about the love you put into it, which led me to want to share about my family and my maternal grandmother, Beauty, whose recipe cards saved me and gave me a purpose. I was able to focus less on the chaos and loneliness I felt in my day-to-day life. The story of how home cooked food had such a positive impact on my life, even in the face of my father's 450-pound weight, felt like an important story. I wanted to provide the color and context around the recipes that were woven into the fabric of my life.
What is your favorite charity or cause and why?
I love City Harvest, it donates meals that would otherwise go to waste and distributes them to the needy.
What is a piece of advice you'd like to share?
When it comes to diet it is not what you do sometimes but the habits you do everyday, like cooking with your kids, going to the farmers market and cooking from your heritage.
I hope my story helps families create happy memories around food.  I also hope that "food" is seen to be more than just the macronutrients, protein, fat, or carbs from which it is composed.  I have always had a passion for taking any family recipe and making it healthier—I hope readers can see that good food can taste good and you don't need to give up your traditional favorites if you are willing to exchange a few ingredients. (There is an index at the back of My Fat Dad that explains what you can use as a substitute for most of the basics that go into every recipe).
What do you value most in your life?
I think the things that are the most memorable are not the big milestones, but the little moments, doing homework with my kids, making a meal they love, and watching them embrace the lessons my grandmother taught me—using her recipe cards as a palette for their own culinary creations.
What are you really really good at?
I have a passion for transforming any decadent desert into a nutritional powerhouse. In my book you will find recipes for pecan pie, pumpkin pie, Blondie's, oatmeal cookies– all healthy enough to eat for breakfast.
About Dawn Lerman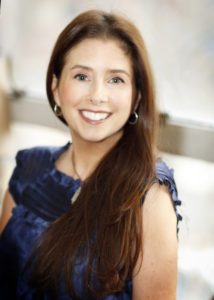 Dawn Lerman, MA, CHHC, LCAT, is a top Manhattan nutritionist, best selling author of My Fat Dad: A Memoir of Food, Love, and Family with Recipes, and a contributor to the NewYork Times Well Blog . She has been featured on NBC, NPR, Huff Post TV as well as several other news outlets. Her company Magnificent Mommies provides nutrition education to student, teachers and corporation. Dawn counsels clients on weight loss, diabetes, high blood pressure, and other diet-related conditions.  She is a sought-after speaker and cooking teacher
Below, enjoy these recipes from My Fat Dad: A Memoir of Food, Love, Family, and Recipes By Dawn Lerman, Berkeley Books
Beauty's Chicken Soup
Yield: 8–10 servings
In the words of my grandmother Beauty, "Good food is not fast. Fast food is not good and if you know how to make a pot of chicken soup, you can nourish yourself for life."
When I was growing up we never had real food in our house. My 450-pound ad man father only consumed diet products with a marketing promise attached. My mom, a liberated women of the 60's and a wanna-be actress had no interest in cooking or domestic chores. I was always hungry both physically and emotionally except for the weekends I spent with my grandmother Beauty. Arriving at her home, I was transformed by the warmth of the air, and the aroma of her soup. It was in her kitchen, inhaling the dill and biting into the soft matzo balls, swimming in stock, sweetened by parsnips and carrots that I felt what true love and nourishment was. It was where my tears were dried.
This hearty soup can be served as a first course or as a meal. It is loaded with body from the chunks of vegetables and the rich broth. Beauty never strained her broth, giving it a robust, complex flavor. "I can find my heritage in a bowl of soup," she often exclaimed, as we enjoyed spoonful after spoonful.
32 ounces water (plus 10 more cups to add as the broth absorbs)
1 (3½-pound) chicken, cut into 8 pieces, most of the skin removed
4 medium carrots, peeled and cut into ¼-inch pieces
4 ribs celery, cut into ¼-inch pieces
2 medium parsnips, peeled and cut into ¼-inch pieces
1 large sweet potato, peeled and cubed
1 medium yellow onion, quartered
Handful of fresh dill, chopped
Kosher salt and pepper to taste
Garlic powder or a couple of cloves of fresh garlic, to taste
Place the 32 ounces of cold water in an 8-quart stockpot set over high heat and bring to a boil. Add the chicken and cook until foam comes to the top. Spoon off the foam, reduce the heat, and add the carrots, celery, parsnips, sweet potato, onion, and dill. Simmer the soup for at least 2 hours and add the 10 cups of cold water, 1 cup at a time, as needed. As the soup cooks, the liquid will evaporate and the soup will thicken.
Check the soup every 30 minutes to remove any film that rises to the top. Stir in the salt, pepper, and garlic powder to taste, and remove the pot from the heat. Remove the chicken and the vegetables from the soup, and pull the chicken meat off the bones. Ladle the broth into bowls and add the desired amount of chicken and vegetables to each bowl.
Fluffy Matzo Balls
Yield: 8–10, depending on the size of the balls
4 eggs
1 cup matzo meal
Salt and pepper to taste
½ teaspoon baking powder
2 tablespoons schmaltz
¼ cup club soda
Beat eggs. Fold in the matzo meal, salt, and baking powder. Mix in the schmaltz and club soda. The mixture should be moist. Refrigerate for 1 hour. The consistency should look like wet porridge. Wet hands and form into small balls. Drop into boiling chicken broth. Cover and cook for 20 minutes
* Note: To make your own schmaltz, just scrape off the fat that rises to the surface of stock. You will see an obvious layer of it after refrigerating the broth overnight—it becomes solid when it's cold.
###
Mohn Kichlach/Poppy Seed Cookies
Yield: approximately 48 cookies
Beauty knew my father was always dieting and eating "food-like" products instead of real food, and this upset her because she knew that during the week, when I was home with my parents, this was the food they would give me. "Food needs to have a delicious, fresh taste and smell," she would tell me, and she would always make me smell and taste things to guess the ingredients, whether it was vanilla in cookies, strawberries in freshly baked muffins, or dill in a barrel of pickles. "It needs to be made in nature and not in a factory."
3 eggs, beaten
1 cup granulated sugar
1cup butter, softened, or vegetable oil
1 teaspoon vanilla
3 cups all-purpose flour
4 tablespoons poppy seeds
1 teaspoon baking powder
¼ teaspoon salt
Parchment paper for rolling out the dough and lining the baking sheet
1 egg yolk thinned with 2 tablespoons of water for a thin egg wash
In a large bowl beat the eggs and sugar with an electric mixer until the mixture is a light yellow color. Continue beating while adding the softened butter (or vegetable oil) and vanilla. Mix well.
Combine the remaining dry ingredients in a bowl and with a fork mix so that the poppy seeds are evenly distributed throughout. Then add the dry ingredients into the egg mixture until the dough just comes together. Form it in a ball and roll out the dough between 2 parchment papers about an inch thick. Place on a sheet pan and refrigerate the dough till until it hardens, about 20 minutes.
Preheat the oven to 350 degrees and cover a baking sheet with parchment paper.
Take the dough out of the fridge and peel off the parchment paper. Cut into desired shapes using a knife or pizza cutter. Place squares on the prepared baking sheet and brush on the egg wash. Bake in the middle of the oven for 10 to 12 minutes, or until slightly puffed and golden.
Cool on a wire rack. The cookies will harden as they cool
Enjoy!
Save
Save
Save
Save
Save
Save
Save
Save
Save