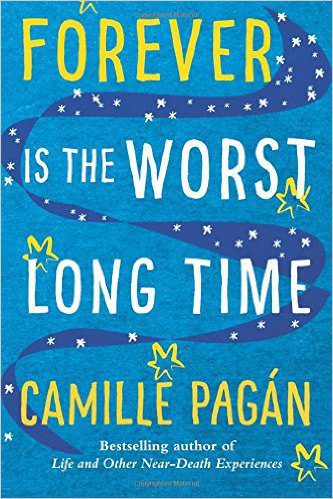 I've just closed FOREVER IS THE WORST LONG TIME and, after wiping my tears away, grabbed my laptop to share my thoughts.
This is one of those stories that is going to stick with me. It's sad and wonderful, heartbreaking and heartwarming. Pagan digs deep into the human experience and we feel longing, regret, guilt, love, loss, and joy along with her rich characters.
Written beautifully from a male point of view, this novel will make you think about your own relationships and about the "quest for perfection at the cost of everything."
Congratulations, Camille, on another awesome read!
What is FOREVER IS THE WORST LONG TIME about?
"When struggling novelist James Hernandez meets poet Louisa "Lou" Bell, he's sure he's just found the love of his life. There's just one problem: she's engaged to his oldest friend, Rob. So James toasts their union and swallows his desire.
As the years pass, James's dreams always seem just out of reach—he can't finish that novel, can't mend his relationship with his father, can't fully commit to a romantic relationship. He just can't move on. But after betrayal fractures Lou's once-solid marriage, she turns to James for comfort.
When Lou and James act on their long-standing mutual attraction, the consequences are more heartbreaking—and miraculous—than either of them could have ever anticipated. Then life throws James one more curveball, and he, Rob, and Lou are forced to come to terms with the unexpected ways in which love and loss are intertwined."
FOREVER IS THE WORST LONG TIME is out February 7, 2017 and is available for pre-order now.
Find Camille at CamillePagan.com, on Facebook, and on Twitter.
About the author:

Camille Pagán is the author of the novels FOREVER IS THE WORST LONG TIME, THE ART OF FORGETTING, and the #1 Kindle bestseller LIFE AND OTHER NEAR-DEATH EXPERIENCES, which was recently optioned for film. An award-winning journalist and former editor at Real Simple and Fitness magazine, her work has appeared in Fast Company, Forbes, Men's Health, O: The Oprah Magazine, Parade, and many others. When she's not at her computer, you'll find her with her nose in a book, running after her two kids, or planning her next trip (most likely to Puerto Rico, where her husband was born and raised). A graduate of the University of Michigan, Pagán lives in Ann Arbor.
© Copyright Leah DeCesare 2017
Save
Save
Save