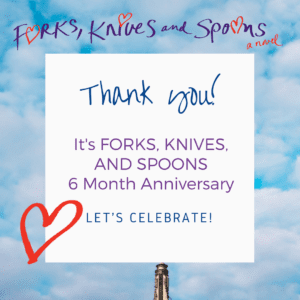 Today, October 18, 2017, marks the six month anniversary of Forks, Knives, and Spoons being out in the world. It's been an incredible half-year!
I'm so grateful to you. I have felt so much love and support from strangers and friends near and far. I've loved hearing from friends who have generously shared my book and who have reached out to tell me they've read the book. It's been a time of reconnection and it continues to delight and cheer me when I hear from someone from my childhood or college years. That has been an unexpected joy of this book journey.
From bookstores and book clubs, from Ohio to Nashville to New Hampshire and New York City, it's been fantastic to meet readers. People have actually read this book! It's surreal and wonderful and I still marvel that people who don't even know me have read it.
So as I celebrate the six month birthday of my book baby, I am filled with gratitude. This experience would not be what it's been without the people who have embraced me and this story of friendship and believing in oneself. THANK YOU!
© Copyright Leah DeCesare 2017