Emily Cavanagh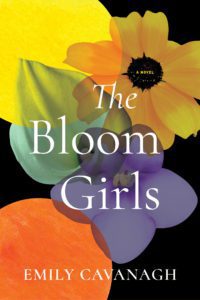 's debut novel, The Bloom Girls, released on March 14, 2017 from Lake Union Publishing. The cover immediately drew me in but then the story did even more. I'm happy to interview my fellow 17Scribes author, Emily Cavanagh. Enjoy!
What was your timeline from drafting to publication? Tell us about your publishing journey.
The novel took about a year and half to write and revise. The longer process was getting an agent. It took me close to eight years, several manuscripts, and a whole lot of rejections to finally sign with my agent in 2015. I finally found my agent, Marlene Stringer, when pitching at a Writer's Digest pitch conference. I pitched to another agent who referred me to Marlene. I signed with her within the month and within six months had signed a two-book contract with Lake Union Publishing.
What advice would you give to an aspiring writer?
My advice to an aspiring writer would be to find a discipline that works for you it stick with it. Write every day for an hour? Write once a week for three? Write every other day for ten minutes? Write a page once a week? Whatever works for you, make sure you're actually sitting down and writing. Set goals for yourself and stick with them.
The other piece of advice I have is to determine your purpose in writing. If your purpose is to write solely because you love it, then you have more freedom. However, if your goal is publication, then you need to make that a focus of your time as well. Write query letters, seek out agents who represent your genre, keep writing new material. No one becomes a successful published writer by just enjoying writing. For most of us, it takes a lot of persistence and perseverance to make it to the publishing stage.
Lastly, don't let rejection keep you from trying. Rejection is inevitable in publishing. It helps to realize that early on and just let it be part of the process.
Besides being a writer, do you have another job? If you're writing full time now, what was your job/career before becoming a novelist?
My two primary jobs are teacher and mother. I'm a middle and high school English teacher at a small K-12 charter school on the island of Martha's Vineyard. I'm also the mother of two girls, ages 4 and 8. These two jobs take up most of my time, so writing is done at night, on weekends, and during school vacations.
Tell us about your writing process. Do you have set times of day/number of words? Do you have a favorite writing place or routine?
I try to write every day. I usually start by rereading what I wrote the previous day and doing some light editing. When I'm in the middle of a first draft, I set a daily goal for myself of 350 new words. Once I've hit that goal, I can stop writing, though I'll often find that I go over that length. On the weekends I try to write for longer chunks. When I'm working on more than one project at a time, I'll go back and forth between new writing and revision. This is sometimes hard because I prefer new writing to revision; however, I understand the importance of revision, particularly if the goal is publication.
What is your favorite charity or cause? Why? How did you get involved?
One of my favorite charities is Water for South Sudan (www.waterforsouthsudan.org). This nonprofit was started by Salva Dut, one of the "Lost Boys" of Sudan who fled South Sudan during their civil war. The organization helps to bring clean water to South Sudan through their well-drilling operations. I first learned about the charity when I read A Long Walk to Water by Linda Sue Park with my 7th grade students. The story chronicles Salva's real life journey from war-torn South Sudan to the United States. While teaching the book, my students and I learned about the real life challenges faced by communities that don't have access to clean water. It's a powerful book that inspires action.
If you could pick one book that everyone had to read, what would it be and why?
As an English teacher, this is a tough one, but if I had to pick only one, it would probably be To Kill a Mockingbird. The novel is beautifully written, the characters complex and well-drawn, and the plot layered, moving, and powerful. Despite the seriousness of the topic, Scout's voice is also so sharp and funny at times. I also really like the structure of a narrator looking back on events that impacted her and telling the story through a wiser and more reflective voice. One of my favorite quotes from the book is this description of Maycomb Country. "Maycomb was an old town, but it was a tired old town when I first knew it. In rainy weather the streets turned to red slop; grass grew on the sidewalks, the courthouse sagged in the square. Somehow, it was hotter then: a black dog suffered on a summer's day; bony mules hitched to Hoover carts flicked flies in the sweltering shade of the live oaks on the square. Men's stiff collars wilted by nine in the morning. Ladies bathed before noon, after their three-o'clock naps, and by nightfall were like soft teacakes with frostings of sweat and sweet talcum."
Emily, I completely agree with you on To Kill a Mockingbird – it is always the first book that comes to mind when I'm asked about a book that matters to me. Thanks for being here!
About The Bloom Girls: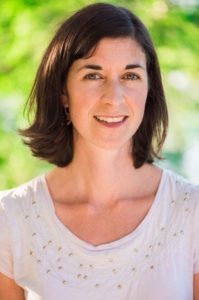 When the news of their father's death reaches them, sisters Cal, Violet, and Suzy Bloom have to set aside their own personal crises, and their differences, to gather in Maine. Responsible Cal, the oldest and closest to their dad, is torn between taking care of her family and meeting the demands of a high-pressure law career. Impulsive Violet, the estranged middle child, is regretting a messy breakup with a man she's just now realizing she truly loves. And Suzy, the sweet youngest daughter, is anguishing over a life-altering decision.
 Arriving in their father's small coastal town, the Bloom sisters can't help but revisit the past, confronting the allegations against their father that shattered their family nearly twenty years earlier. As they try to reconcile different versions of their childhood and search for common ground, they're forced to look at their father's life—and their own lives—with new eyes, or risk losing all they hold dear.
Connect with Emily:
Save