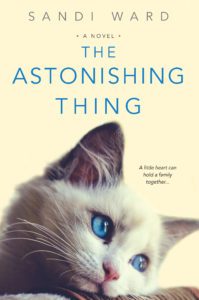 I'm so happy to share my interview with fellow 17Scribes debut author, Sandi Ward. She's a generous, kind, and spirited woman. Her new book,The Astonishing Thing, is original and touching and releases on Halloween – preorder today.
Where did the idea for your book originate?
The Astonishing Thing started out as an experiment. I actually thought it would be a short story. I don't plan or outline my novels, so when I start a story I'm never sure where I'm going to end up.
The Curious Incident of the Dog in the Night-time by Mark Haddon is a novel narrated by an autistic teenager, and it inspired me to try and use my own unconventional narrator. I thought it would be unique to write from a cat's point of view. My narrator Boo watches everything her humans do, but doesn't always understand it. She shares the same pain, confusion and hope that her family members experience, much like a child would.
When you think back to your childhood dreams for your adult life, did any of them turn out like you imagined?
I've always wanted to be a writer. I remember trying to write an action-adventure novel in the fourth grade (I didn't get past Chapter 3.) Today, not only am I publishing fiction, but I've spent my career in a position where I get paid to write—as a medical writer and copywriter. So that dream came true!

My teenagers were amused to see that in my high school yearbook all of my classmates wished me luck in my future career as a musician and pop star. I was obsessed with music for a while, and imagined myself as a songwriter or music producer. Now I live my musical life vicariously through watching my daughter on stage in her high school productions.
Tell us about your writing process.
When I was a freelance writer and worked from home, I always wrote fiction first thing in the morning—before breakfast, before getting dressed, before turning on the Internet. But now that I've gone back to work full-time, I just write whenever I can squeeze it in. I have weekly goals, but not daily goals, since my routine changes from day-to-day. I manage to focus when and wherever I have to, but I prefer to work in a quiet space, with coffee at my side.
What is your favorite charity or cause? Why? How did you get involved?
I love our National Parks. I've always felt strongly that it's our responsibility as humans, residing on the top of the food chain, to take care of the earth and our environment. It's important to preserve open spaces, and provide access to everyone who wants to enjoy them. I support the parks through the National Park Foundation. This past summer we took a family trip to Acadia National Park in Maine—it was a long drive to get there, but it's an amazing destination!

About the book: The Astonishing Thing is the story of a troubled family seen through the eyes of their cat.
"A unique and poignant tale of a family's struggle as witnessed by someone who sees everything…a triumphant debut for Sandi Ward."
— Helen Brown, New York Times bestselling author of Cleo
Connect with Sandi:
Twitter @sandiwardbooks
Instagram @sandiwardbooks