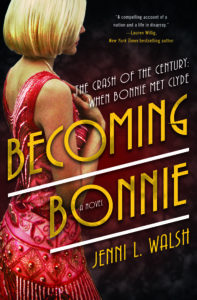 Today is #BonnieandClydeversary and we're celebrating with Jenni Walsh, debut author of Becoming Bonnie. Jenni is one of the five 2017 Debs of The Debutante Ball and a fellow 17Scribes author.
Today is the anniversary of when Bonnie and Clyde's life on the lam came to an end. What was your inspiration for writing about this infamous duo in Becoming Bonnie?
Deciding to write about Bonnie and Clyde organically developed. As a reader of historical fiction, I wanted to write a historical novel. And, I liked the idea of focusing on an iconic figure. I most often enjoy the "based on" or "inspired by" stories. I was brainstorming with my husband, who is a major history buff, and Bonnie and Clyde were mentioned. The recollection I had of the duo, mainly from the 1967 Bonnie and Clyde film, wasn't one of violence, but a partnership between Bonnie and Clyde rooted in loyalty and devotion. As I began researching and writing, I became more and more curious about who Bonnie was prior to Clyde and prior to their crime spree. So that was the story I decided to tell in Becoming Bonnie. It's Bonnie's coming-of-age origin story of how she becomes half of Bonnie and Clyde.
Becoming Bonnie is set during the 1920s. How much fun was that era to write?
A blast. Bonnie's character starts rather wholesome. In fact, I give her a whole new fictional name—Bonnelyn—so I could hit hard with the evolution of her character. That evolution includes putting Bonnie, reluctantly at first, in a speakeasy, with smoke stinging her eyes and jazz music pumping from the speakers. The clothing, music, and nuances of the Roaring Twenties are so vibrant and it was incredibly fun to bring to life.
What did you learn about yourself while writing Becoming Bonnie?
I can muster productivity on severe lack of sleep. My second child arrived smack dab in the middle of my 3-month revision period. And while I can't say I remember too much from that time period, my son is alive and well and I also hit my deadline.
What is your favorite part of writing (drafting characters, making up scenes, plotting, developing emotional turning points, etc)?
Dialogue. Hands down. I love when I'm washing my hair, folding laundry… trying to sleep… and my characters start having this pithy back and forth convo in my head. I feverishly stop what I'm doing and try to get it down on paper.
In Becoming Bonnie, Bonnie often banters with her best friend, Blanche. And Blanche was such a fun character. She's bold, sassy, and confident. One fun attribute I gave Blanche to show that confidence is that she often speaks in third person.
Share something people may be surprised to know about you?
I had very little interest in history until after I got married. I apologize to my former history teachers, but my eyes would glaze over in high school. But my husband is a huge history buff and it's very common to have a documentary playing on our TV. Over time, the topics began to interest me and historical fiction became the type of book I most frequently reached for.
What's the best piece of writing advice you've ever gotten?
Work a little each day. Even if it's only getting a paragraph down on paper, it's progress. I'll be honest; there have been many days where 200 words are all I can muster. But it's something to build upon for when I sit down to write the next day.
What's your next big thing?
I'm really excited that there's going to be a sequel to Becoming Bonnie. While Becoming Bonnie is Bonnie's coming-of-age origin story, Being Bonnie is full on gangster's moll. That book will be the story of Bonnie and Clyde's notorious crime spree. And, if you've read Becoming Bonnie, you'll be happy to know Being Bonnie will include the remaining verses of Bonnie and Clyde's song!
I'm also thrilled to be beginning a series called Brave Like Me with Scholastic in the fall of 2018. The books are middle grade narrative nonfiction and will feature women who at a young age completed daring feats of perseverance and bravery. We're kicking the series off with two books — about Bethany Hamilton and Malala Yousafzai.
About Becoming Bonnie:
​From debut historical novelist Jenni L. Walsh comes the untold story of how wholesome Bonnelyn Parker became half of the infamous Bonnie and Clyde duo.
​
​The summer of 1927 might be the height of the Roaring Twenties, but Bonnelyn Parker is more likely to belt out a church hymn than sling drinks at an illicit juice joint. She's a sharp girl with plans to overcome her family's poverty, provide for herself, and maybe someday marry her boyfriend, Roy Thornton. But when Roy springs a proposal on her and financial woes jeopardize her ambitions, Bonnelyn finds salvation in an unlikely place: Dallas's newest speakeasy, Doc's.
Living the life of a moll at night, Bonnie remains a wholesome girl by day, engaged to Roy, attending school and working toward a steady future. When Roy discovers her secret life, and embraces it—perhaps too much, especially when it comes to booze and gambling—Bonnie tries to make the pieces fit. Maybe she can have it all: the American Dream, the husband, and the intoxicating allure of jazz music. What she doesn't know is that her life—like her country—is headed for a crash.
She's about to meet Clyde Barrow.
Few details are known about Bonnie's life prior to meeting her infamous partner. In Becoming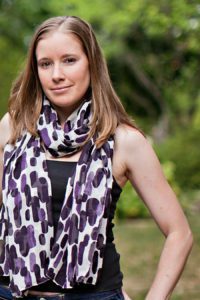 Bonnie, Jenni L. Walsh shows a young woman promised the American dream and given the Great Depression, and offers a compelling account of why she fell so hard for a convicted felon—and turned to crime herself.
Connect with Jenni:
Website
Twitter
Facebook
Goodreads
Amazon
Save
Save