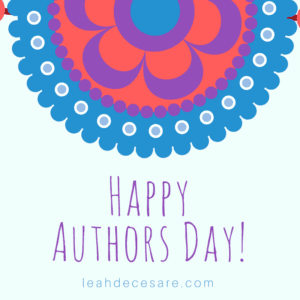 November first is a big day of celebration! I'm giving a nod to National Brush Day in honor of Amy York who discovers a few things because of her frequent teeth brushing.
Of course, the day is probably designed by dentists for the day after all that Halloween sugar, but I'm the creative type and putting my own spin on things. …
Okay, so I looked it up and here's the deal with National Brush Day:
"American Dental Association News – To emphasize the importance of brushing for two minutes, twice a day, every day, the Kids' Healthy Mouths campaign is celebrating National Brush Day Nov. 1, the day after Halloween. The holiday aims to reinforce the importance of children's oral health and promote good tooth-brushing habits."
Now we know.
November first is also National Authors' Day and I'm grateful that this year, I truly feel like an author with my debut out in the world. It's been an incredible ride and I'm doing what I wanted to be when I grew up! Since my birthday is also this week … maybe that means I've truly grown up, hmm.
A big shout out to all of my author pals everywhere.
I'll be celebrating National Authors' Day at Reading With Robin's 9th Annual Evening With Authors with Wiley Cash, Nicole Krauss and Alice Hoffman, three powerhouse authors. Happy November First – rabbit rabbit!