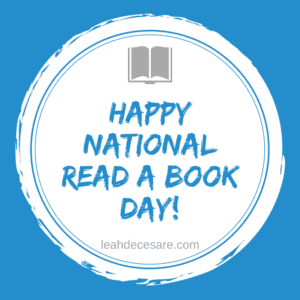 Today is National Read A Book Day though, I observe that every day. It's hard to imagine a day going by without opening a book for at least a little while, or listening to one.
I woke up and first thing, finished the last 40 pages or so of LITTLE FIRES EVERYWHERE, the new book by Celeste Ng out later this month. Fantastic! I'm writing a review for Suzy Approved Book Reviews, check there soon for the post.
What are you reading to celebrate Read a Book Day? This is the perfect opportunity to Log Out and Live, to turn off the TV, shut down the computer, and snuggle up with a good book. We can have the kids discard their gadgets and enjoy a little family reading time. Read aloud to your kids or have them read to you, have kids read to grandparents near or far, or have grandma read to your kids.
From National Calendar Day:
"Reading improves memory and concentration as well as reduces stress.   Older adults who spend time reading show a slower cognitive decline and tend to participate in more mentally stimulating activities over their lifetime.  Books are an inexpensive entertainment, education and time machine, too!"
Go ahead – log off and read a book! I love starting a new book and that fun decision of what to read next. Tonight, I can't wait to dive into Kate Moretti's new book, out September 26th, The Blackbird Season.
Happy National Read a Book Day!
Save