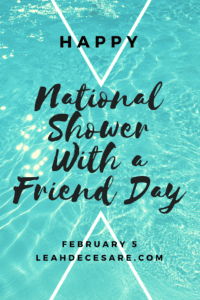 For real, today is National Shower With a Friend Day.
In honor of my character, Jenny Callista, in FORKS, KNIVES, AND SPOONS, who, well, showers with a "friend", I had to learn more. On the National Day Calendar website, they explain it like this:
"Winter is the coldest and loneliest season of the year. With dwindling daylight and Valentine's Day at its heart, February can often leave people feeling dejected and somber. National "Shower with a Friend Day"  injects a bit of humor into the season while also serving to educate people on the benefits of showering in fresh, filtered water (and the effects of chlorine)."
What? Chlorine? Oh – I had way better images of what this national day of recognition was about. Turns out, the day was proclaimed in July 2014 by National Day Calendar after being registered by a Colorado company,  New Wave Enviro. (As a marketing and PR gal myself, maybe you'll be interested in these 12 Weirdest National Holidays and how they can apply to your PR strategy.)
While I'm all for water conservation and safety, it's not nearly as interesting as I'd expected, so I kept digging for some of the nuances of celebrating National Shower With a Friend Day and found this humorous article that poses seven very good questions when considering how to honor the day. My two favorite questions follow, click to find Kelly Kazek's comical answers. By the way, like me, she was let down to learn about the real purpose behind this "national day".
Q: Are you supposed to shower with a friend-friend or a friend-with-benefits friend?
Q: When showering with a friend, is it proper etiquette to shower unclothed or swim-suited?
It seems that, given the limited information on our vast World Wide Web, National Shower With a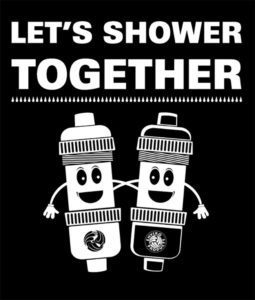 Friend Day may be under-acknowledged, perhaps not fully embraced. I did find these two brave morning show personalities, Skeery and Greg T from New York City's Z100, wearing flip flops and what appears to be nothing else to join the festivities and uphold the hashtag #ShowerWithAFriendDay.
Since this brings us to page four on my Google search (does anyone look past page two?) I'll end with a question – or a challenge – for you: Will you shower with a friend today? Or as this site suggests in their listing of 12 Things To Celebrate in February Other Than Valentines Day:  "On February 5 we are all encouraged to shower with a buddy. If that's not really your style, celebrate the day by using #ShowerWithAFriendDay to educate others on the importance of water conservation."
However you give a nod to this newish-PR-driven-intentionally-suggestive national day – have fun getting clean today!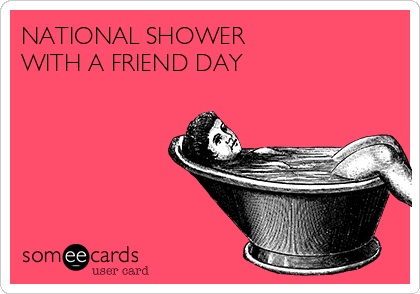 © Copyright Leah DeCesare 2017
Save
Save
Save