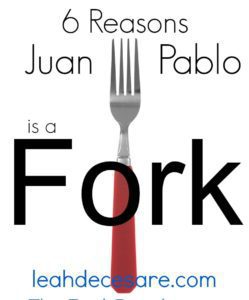 This post was originally published in 2014
after Season 18 of The Bachelor. Even if you don't watch – you'll learn to see the signs of a fork …
I confess, I don't watch The Bachelor and think the entire show qualifies as a Forky show. I mean it's the perfect show for a player: let's give this guy 27 women to date all at once! But, I had to write about the Season 18 Bachelor, because it turns out that Juan Pablo Galavis seems like the real deal: A Total Fork.
Here are 6 Reasons Juan Pablo is a Fork
Add your own reasons – or disagreement – in the comments.
1. His intolerant and offensive attitudes
Juan Pablo demonstrated an insensitivity toward gay and mentally disabled people and even toward marriage. Intolerant, arrogant, elusive, defensive … need I go on?
2. His own mother, father and cousin warn against him
Huge red fork-flags! Juan Pablo's own mom tells Clare Crawley, one of the final two choices, "He sometimes is very rude." Clare tells her, "He made me cry," to which his mother says, "Me, too. … He say the things a little bit rude." She also tells the camera, "He's not easy."
His cousin, too, tells Clare, "I want to be honest with you … something that happens with Juan Pablo sometimes, is that when things get tough in a relationship and he's willing to walk away …" and to Nikki Ferrell, the other finalist, "Juan Pablo, I mean, I love the guy, but sometimes when things are getting rough, he walk away from the relationship."
WHAT?!
To Nikki, the bachelor's dad says, "He's not an easy guy. I'm telling you because he's really, how do you call that? He's focalized on what he wants. It's always very specific in what he want's and he think he knew the truth about everything."
So his mom says he's rude, his cousin says he's uncommitted and apt to flee when things get tough, and his dad pegs him as a selfish, know-it-all.
He's also a fork by popular public opinion, and behind the scenes at ABC. Comments on forums and blog posts are spattered with words like loser, reject, and unlikable while The NY Daily News reports that even the ABC producers aren't fans. "Insiders say ABC producers can't wait until the season is over … [Juan Pablo Galavis is] the worst bachelor ever."
3. It's all about sex, baby
In a typical, fork-like move, the day after he seemingly has sex with Clare, he tells her that it "was a mistake" and that it "never should have happened" as if he had no responsibility or stake in the matter. (To all observers, it appeared like they were hooking up in the ocean in Vietnam, and though she later denied it, she did toast to "making love" the day after.)
It's just plain old forkiness to screw around then dismiss it with the "it was a mistake" line.
On the helicopter, when the misc were off, Juan Pablo told Clare, in her words: "He chose to tell me something that no woman wants to here, that he doesn't really know me, and some sexual thing I don't even want to repeat. It was insulting, it was offensive and it just made me feel awful. Every single woman deserves to be treated with respect. I'm not just an object. Maybe I have him all wrong." She continued: "… he said, I feel like we don't know each other, he loves hooking up with me. What he said and the words he used, I can't even repeat it. … I didn't come here for just a hook up."
Perhaps Juan Pablo did …
4. He met the kid then dumped the mom
Juan Pablo met Renee's son, Ben, and then eliminated her the next day. As a father, especially, he should understand the gravity and importance of bringing a child into a parent's relationship. This mom was away from her son for a month, then the first time seeing him again was with good 'ol JP. He enjoyed a precious family moment, then he sent her on her way.
He also used his own daughter as an excuse for why he didn't kiss specific girls. Using your kids as an excuse for anything is pretty weak and low.
It's such a fork move to not own up to your emotions, actions, and behaviors. JP, don't hide behind your daughter!
5. He tells us himself that he's a fork
In his own words, Juan Pablo is a fork.
Hw says to Clare: "You got me wrong. You don't know me enough." She should've listened to him!
Here's a drinking game, every time JP says, "I'm being honest" – drink! It's a classic fork line along with another one he uses: I'm not playing games. Come on …
His uses honesty as his defense when he feels cornered or to justify a cocky or insulting comment. Always needing to say, "I'm being honest," is a case of "thou doth protest too much."
He also tells us who he is in what he doesn't say. The women complain that he doesn't listen or share his feelings and even at the final moment, instead of, "I love you," he utters, "I like you. I like you a lot." Wow!
At the finale, the audience watched the manipulation unfold. On their last date, he talked to Clare about having kids with her, then dumped her the next day. Then, after she confronts him with her feelings, he obnoxiously said, "I'm glad I didn't pick her."
Then, after he gave Nikki his final rose, did he really tell her (twice), "Don't get cranky"? Please tell me I heard that wrong!
6. The women who met him seem to agree that he's a fork
Two women left him on their own accord this season, I'm told that's unusual. Especially telling, is when front runner, Andi Dorfman, (announced last night that she will be the next bachelorette) left after their overnight date. By the way, the two who dumped him were possibly the two most intelligent women in The Bachelor's history.
On the The Women Tell All episode, the universal sentiment was that JP was a jerk, sure, they're the jilted bachelorettes, but I hear that it usually doesn't go down that way, with everyone speaking negatively about him.
Clare said about choosing not to see Juan Pablo again on After the Final Rose show, "I don't want to sit here on this couch and get fed anymore BS. … He's plan and simple not the man I thought he was. "
Maybe the "winner," Nikki, is the only one who disagrees the Juan Pablo is a fork, though she admits that four months since he chose her, he still hasn't told her, "I love you."
© Leah DeCesare 2014
Save
Save
Save
Save