steak knife, noun \steyk\ \ˈnīf\
Centered in the knife category, the broadest category of classifying guys
The ideal guy, definitions may vary from different women's perspectives
Sharp, but not too sharp; having "edge"
Knives range from butter knives to butcher knives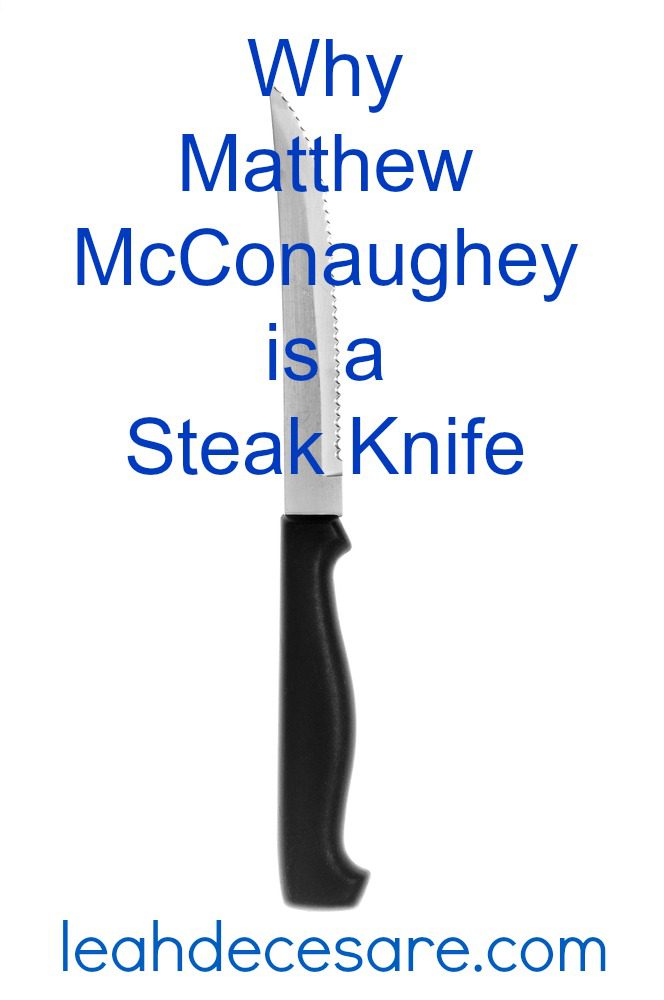 I wrote the following post in 2014 after Matthew McConaughey won Best Actor for "Dallas Buyer's Club". I'm posting it again now with some new commentary after seeing the animated movie "Sing" in which McConaughey is the voice of the koala showman Buster Moon.
While Moon starts out as self-serving, he ultimately redefines success for himself while supporting the other characters who are striving to be true to themselves and their dreams. While there's no real romantic thread for Buster Moon/McConaughey, the character does the right thing and acts out of kindness in the end. I'd say those are steak knife traits.
And what would a movie be without a fork? The fork in "Sing" was definitely Lance, the porcupine boyfriend of rock-singer, Ash. She puts up with his arrogance and criticism and (spoiler alert) he cheats on her after she is accepted to sing without him in the competition. Then, the best fork description, Ash finally calls Lance a "super jerk dingle splatt" – yup, a fork. Porcupine needles poke like tines.
Back to McConaughey being a steak knife, Pop Sugar shares this comment and a bunch of pictures of the happy couple:
"Matthew McConaughey and Camila Alves got married in Texas in June 2012, and in the years since tying the knot, they've shared so many sweet moments together. The couple, who started dating in 2006, have three children together and are constantly on the go with their adorable family of five. From red carpet appearances to fun date nights, these two always seem to have a good time together."
2014 Post on Matthew McConaughey
I thought I could call Matthew McConaughey a fork, and maybe at one time he was one, flaunting his tight abs and dating half of Hollywood's leading ladies. Even in accepting the best actor Oscar for his role as Ron Woodroof in "Dallas Buyer's Club" last night, I worried. His "needing someone to chase after" comment was definitely something a fork would say or believe.
So can forks change their tines?
Then he mentioned his wife and three children, "You are the four people in my life that I want to make the most proud of me." He thanked his mother. He spoke of God and he bared himself emotionally. That puts McConaughey solidly in the steak knife category from where I sit.
Clearly, his wife since 2012, Camila Alves, thinks she's found her perfect guy. To her, Matthew McConaughey is a steak knife. Also, he's stepped out of romantic comedy roles and exposed a less-attractive, deeper quality of acting in "Dallas Buyer's Club" than in his past fun and flirty films, showing both confidence and vulnerability – both good steak knife characteristics.
All over the internet this morning, people are noting, commenting and raising eyebrows at his speech, but McConaughey is a steak knife for being an involved dad to his three kids. In a pre-Oscar interview, he said that on the day of the Oscar's, "I'll be making breakfast in the morning of, but not the morning after," he laughed. We'll give him that!
He's a knife because of this sensible, open-minded comment: "I don't dislike any of my exes," he said in the March issue of Elle magazine. "If I took time to form a relationship, it's gonna hurt when we move on, but are you puttin' Wite-Out over all that beautiful time together? That was real time in your life. It's connected to where you are today."
He also seems to appreciate where he is, saying, "Whether or not I'm here again [at the Oscar's as a nominee] there will only be one first time, and I'm going to enjoy it." To that we nod, "All right, all right, all right."
And that's why Matthew McConaughey is a steak knife.
© Copyright Leah DeCesare 2014
Save
Save
Save