This review of SURPRISE ME by Sophie Kinsella was originally posted on BookReporter.com.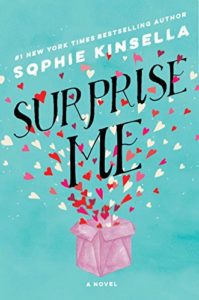 In classic Kinsella fashion, I was intrigued at the epigraph, hooked at the prologue and laughing out loud by page one. At one point in the first chapters, I was laughing so hard that it drew attention from my family who popped into my office to see what was so funny.
While the story premise is a little silly and far-fetched — the happily married couple gets the good news that they're really healthy and will live to be able to be married another 68 years — Kinsella delivers a fun story with bits of wisdom throughout. As a reader I was easily able to suspend any disbelief and settle in to enjoy. Kinsella is a master at engaging storytelling, entertaining quips, and developing nuanced, interesting characters.
Readers of my reviews know I prefer to share my thoughts than to summarize plot, so to orient you, here's a bit of the description from the back of the book: "After ten years together, Sylvie and Dan have a comfortable home, fulfilling jobs, and beautiful twin girls, and they communicate so seamlessly they finish each other's sentences. They have a happy marriage and believe they know everything there is to know about each other. Until it's casually mentioned to them that they could be together for another sixty-eight years . . . and panic sets in. They decide to bring surprises into their marriage to keep it fresh and fun."
SURPRISE ME shares truths about love and human nature, predominantly through Sylvie and Daniel's amiable next door neighbor, retired Oxford professor, John Russell, a fern expert. In one conversation in his greenhouse, Sylvie's  six-year-old daughter asks: "Do people grow toward the light?" and Professor Russell answers: "We have, of course, many different kinds of light … Sometimes our light might be a faith, or an ideology, or even a person, and we grow toward that." A beautiful thought, then a page later, we receive this other gem: "If we don't stick up for the ones we love, then what are we good for?"
As a woman who came of age during the wonderful era of 90s romantic comedies, I appreciated SURPRISE ME and enjoyed a winter snuggle with this book, entertaining and comical with questions we can puzzle over.
The story asks: What is the nature of marriage and long-term exclusive relationships? Is it possible, or advisable, to have a monogamous multi-decade marriage as a goal? How well do we know the one we love? Can we keep getting to know someone, growing closer, despite believing we already know everything about them?
Sylvie comments that fifty-nine years together is "an achievement" but, again through Professor Russell's perspective, she comes to see instead that it's a privilege.
Fans of Kinsella will enjoy her classic light-hearted prose, the outrageous antics, the go-get-em transformation of her female protagonist and the satisfying ending, with a bit of a twist.