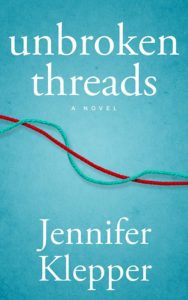 See below for how you can win a copy of Unbroken Threads.
It's such a privilege to be a part of the Suzy Approved Blog Tour for Unbroken Threads. I had such fun getting to know Jennifer Klepper at a writer's conference last spring. We hung out with a wonderful group of Women's Fiction Writers Association members, chatting about the craft of writing and traipsing around Boston on a hunt for cannoli.
First – a bit about Unbroken Threads:
Jessica Donnelly's life is beginning to unravel. When the attorney turned stay-at-home mom tentatively volunteers to represent Amina Hamid, a woman seeking asylum, Jessica must learn an unfamiliar area of the law. Soon, rising opposition to Muslim immigration and unexpected prejudices put her relationships on shaky ground.
Amina fled Syria with little more than memories that now fight against the images splashed on the news. Seeking a secure future and freedom from guilt and grief, she must learn to trust others amidst the reality of fear and hate.
To find stability, Jessica and Amina will both need to harness their own strengths, which may lie in connections that transcend generations, cultures, and continents.
As a reader, I found this to be a touching story about the power of human connection. Timely and thoughtful, Unbroken Threads released at the end of August and highlights how we are all connected. Jennifer Klepper shines light on the war torn Syria and the resulting refugee crisis with sensitivity and compassion. She lets the reader see and empathize with differing viewpoints and shows the value in eye-to-eye, face-to-face, real connections. I loved seeing the relationship between Amina and Jessica unfold as the two women, from opposite sides of the world, navigate the developing friendship.
My favorite lines were first from Jessica, an American, and Fayiz, a Muslim Syrian immigrant.
"We're not all bad," Jessica said softly, mostly to herself.
"I know," Fayiz responded. "Neither are we."
Personally, I identified with Jessica's life stage-the challenges of raising teens and the search for a fulfilling career following years (or decades) of focusing on family and home-life.
A big congratulations to Jen for a fantastic debut!
⭐️ To win a signed copy, sign up to receive my monthly newsletter. I don't spam you and have a fun book and wine pairing each month, and often giveaways, too. See past newsletters here.
About Jennifer:
A Midwest native, Jennifer made stops in Dallas, Charlottesville, and Boston before settling for good in Maryland. While she has an appreciation for the expansive beauty of the plains states, she hopes never to live landlocked again.
Jennifer attended Southern Methodist University and the University of Virginia School of Law, her law degree guiding her through the worlds of corporate law, tech startups, and court advocacy for foster children. She is an ardent consumer of podcasts and books that challenge her with compelling and unfamiliar topics. When she's not writing, she's crossing things off a never-ending to-do list and hoping to catch that next sunset. Jennifer lives near Annapolis with her husband and two kids.
Connect with Jennifer:
Facebook: @JenniferKlepperAuthor
Instagram: @jennifer_klepper
Twitter: @jenklepper
Website: www.jenniferklepper.com