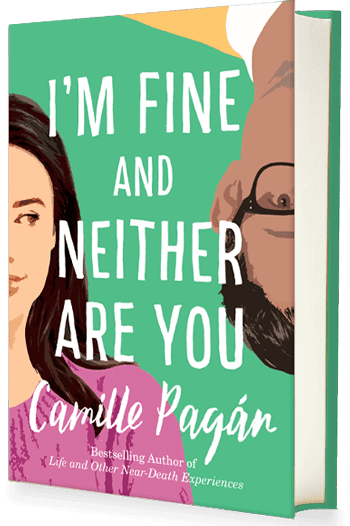 I liked this book so much I have two copies–paperback and I selected it as my March Kindle First selection. You'll be able to love it with only one copy.
I'm Fine and Neither are You is Camille Pagan's fifth novel (I've read them all). One aspect of the story explores a topic I've been fascinated with: curated perfection. Penelope's best friend is an online influencer with a "perfect" life, especially in comparison to Penelope's messy one. But Pagan shines a light on how hard juggling mom, work, wife, friend, and our other roles is, and the cost of pretending to make it look easy.
I often think about the effect of the perfectly staged and selected images we see every day in our social media feeds. Not just the implicit raising of the image-poster above us less organized, less beautifully-living folks, but also the effect on the image-poster herself. What pressure to keep up that level of perceived-perfection! And so we see that Pagan's character Jenny, had just that stress and the pressure of keeping it hidden, even from her best friend.
Camille has been a generous supporter of me as a newer writer. I've loved being online and email friends, and I can't wait to meet and hug her in person next month in NYC! Camille is the keynote speaker at the ASJA Conference, speaking May 6th and she'll be in conversation with another amazing and kind writer, Cristina Alger on May 7th at Shakespeare & Co.
Congratulations on another book that digs deep into the realities of womanhood!
"Camille Pagán's novels are compulsively readable, and her latest may just be her ultimate page-turner. Smart, witty, and exacting, I'm Fine and Neither Are You examines the high price of perfection and the rewards of getting real—even when doing so jeopardizes your most important relationships. I loved it." —Sarah Jio, New York Times bestselling author
"With amazing insight into what it's like to balance marriage, home, and career, Camille Pagán has shined a spotlight on the stark truth, which is that it's much harder than we make it look. Mother's little helper takes on a very modern—and unsettling—meaning. This is one relatable tale." —Tracey Garvis Graves, New York Times bestselling author of The Girl He Used to Know
"A senseless tragedy causes a woman to reevaluate her entire life in I'm Fine and Neither Are You—a beautiful novel that is equal parts hilarious and heartbreaking. Camille Pagán's latest is a must-read for any woman who has tried (and most likely failed) to have it all." —Liz Fenton and Lisa Steinke, bestselling authors of Girls' Night Out
Find Camille at CamillePagan.com, on Facebook, and on Twitter.
About the author:
Camille Pagán is the author of the novels FOREVER IS THE WORST LONG TIME, THE ART
OF FORGETTING, and the #1 Kindle bestseller LIFE AND OTHER NEAR-DEATH EXPERIENCES, which was recently optioned for film. An award-winning journalist and former editor at Real Simple and Fitness magazine, her work has appeared in Fast Company, Forbes, Men's Health, O: The Oprah Magazine, Parade, and many others. When she's not at her computer, you'll find her with her nose in a book, running after her two kids, or planning her next trip (most likely to Puerto Rico, where her husband was born and raised). A graduate of the University of Michigan, Pagán lives in Ann Arbor.