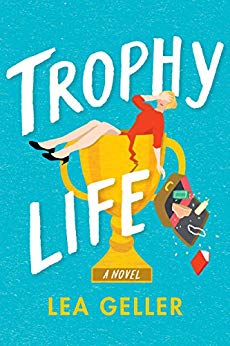 Welcome to my stop on the Suzy Approved Book Tour for Trophy Life by Lea Geller.
I had such fun reading Trophy Life. Lea's writing is warm and witty, like talking with an old friend, which is something you'll find in this story too. In my reviews, I leave the summaries to the back cover copy:
For the last ten years, Agnes Parsons's biggest challenge has been juggling yoga classes and lunch dates. Her Santa Monica house staff takes care of everything, leaving Agnes to focus on her trophy-wife responsibilities: look perfect, adore her older husband, and wear terribly expensive (if uncomfortable) underwear.
When her husband disappears, leaving Agnes and their infant daughter with no money, no home, and no staff, she is forced to move across the country, where she lands a job teaching at an all-boys boarding school in the Bronx. So long, organic quinoa bowls and sunshine-filled California life. Hello, processed food, pest-infested house, and twelve-year-old-boy humor—all day, every day.
But it's in this place of second chances (and giant bugs), where Agnes is unexpectedly forced to take care of herself and her daughter, where she finds out the kind of woman she can be. Ultimately, she has to decide if she prefers the woman and mother she has become…or the trophy life she left behind.
Authentic and sharply witty, Trophy Life is proof that granny panties and mom coats might not be the answer to everything; they're simply comfortable (if slightly unattractive) reminders of what happens when one life ends…and real life begins.
I bet you already can't wait to read it! Readers will laugh and relate to Aggie Parsons from LA to NY, as she journeys on a path that returns her to her authentic self. I kept guessing and wondering what was really going on with her disappearing husband, who is, by the way, a total fork. He takes her for granted, assumes she's do whatever he wants her to, and likes their relationship with him in control. #Fork
I rooted for Aggie and cheered her on as she dug deep, examining her integrity and morals and what she truly wanted in life.
I have a giant soft spot for boys like the middle school boys Aggie teaches. Distractible, prone to being in trouble, and disregarded, judged, and minimized by school professionals (except Aggie), my heart cried for these boys. I loved being a part of helping them alongside Aggie.
From trophy wife to Trophy Life, you'll chuckle, relate, and nod your way through this highly readable debut.
Thank you to Suzy Approved Book Tours, Lake Union, and Get Red PR!