3 must-pack beach reads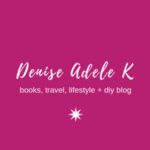 Something about April showers and a May that has been slow to bloom has had me tearing through books in the evenings after we wind down for the day.  In 2017, I really struggled to reach my Goodreads goal of 75 books, but this year the app let me know I'm 9 books ahead of schedule with no slowing down in sight. Here are a few recent picks that I loved and am eager to share with you!
The Perfect Mother by Aimee Molloy
I've been really into the "domestic fiction" genre that has emerged as of recently. I love reading about complex characters and diving into a psychological, suspenseful story. A mom's group in Brooklyn meets with their brand new babies, and a night out turns catastrophic when one of the babies is missing. No one is what they seem, and there's plenty of intrigue as the story takes you through a humid summer in the city.  Every page reveals a new detail, or a red herring. I couldn't read this book fast enough, despite having to take Benadryl a few nights before bed, I found myself wanting to stay up later and later to read. When I finished this book, I was ready to start it over again knowing what I know now. Read this one carefully!
The Great Alone by Kristin Hannah
From the author of the poignant and powerful The Nightingale comes The Great Alone, a story about a family who has run away from it all and reached the end of the world in Alaska. Leni and her parents try to homestead in Alaska as her father tries to out run the trauma of being a prisoner of war in Vietnam. While this book did not start off as fast-paced as The Nightingale, I found myself fully invested in this story, and was left with a bit of a book hangover when it was time to be done. I'm glad to own this book, as I plan to pass along between my friends, wanting to share this artfully crafted story.
Forks, Knives and Spoons by Leah DeCesare
I'll be the first to admit that a good book cover sometimes is enough to lure me in, and Forks, Knives and Spoons was one of those. I belong to a Facebook group led by Jen Cannon of the page In Literary Love, a fun bookstagram account to follow, and it seemed like I was seeing this book all over. The story is set at Syracuse University and New York City in the late 80s & early 90s, and I absolutely loved how the story is helped along by the lack of social media, cell phones and email. The main character's father has a theory about males that characterizes them as either a fork, knife or spoon, and this silly theory characterizes everything the characters do during their time in school and in the post-grad world. You'll definitely be thinking about silverware in a new light after this!
Did you read all the way to this part? Good! If you got here, I want to send you an Amazon gift card so that you can get yourself one of these books (or something else on your to-read list). Everyone who leaves a comment below with what their top pick would be of the books listed will be entered to win an Amazon gift card (contest open until Monday, May 28 at 9:00 PM CST). Read more…