Hometown Author And Her Debut Novel To Be Celebrated At Booth Library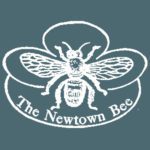 By Shannon Hicks
Leah (Bogdan) DeCesare has very fond memories of growing up in Newtown.
The author and blogger was born in Danbury Hospital, attended Trinity Day School, and was one of the first classes to go through Head O' Meadow School on Boggs Hill Road. The 1988 graduate of Newtown High School – when the school's mascot was still the Indian – may not have lived in town since the late 80s, but she thinks of it often, and fondly.
Ms DeCesare ("de-CHEZZ-er-ay") will be making a return to Newtown from Rhode Island, where she and her husband and their family now live, to be the special guest for an author program on May 17 at C.H. Booth Library.
"I can picture myself there," Ms DeCesare told The Newtown Bee this week. "Oh my God, I love the smell of books when you walk in there.
"I remember I won a contest for a poem," she added, "and I remember standing, so proudly, in front of the library with my prize, for a picture for The Newtown Bee."
This week Ms DeCesare is being featured again in her former hometown paper, which is letting readers know she will be in the lower meeting room of 25 Main Street for that aforementioned author program. Beginning at 7 pm, she plans to do a reading from her first novel, and then host a discussion.
Forks, Knives, and Spoons opens on the eve of Amy York's departure for college. She and her father are at dinner, and he shares with his daughter his advice on men.
"There are three kinds of guys: forks, knives, and spoons," Tom York tells his daughter. Laying three utensils out on the table before him, Mr York explains that forks are the men to look out for, spoons are gentle geeks, and knives are the men to find and fall in love with. He calmly explains his thinking, before sending his daughter off to Syracuse University with her dream of becoming a journalist.
What becomes known as the Utensil Classification System is shared with friends Amy makes while at school, and is adopted and repeatedly used by her circle for the next four years of their lives.
The novel is an enjoyable 408-page romcom that was inadvertently launched nearly 30 years ago, when the author was preparing to head to college.
"One night, my mom and dad and I went out for dinner, and this was just before college, and he laid the groundwork for that novel," she said. "This was his oldest daughter, going off to college, and I think this was his way of recognizing 'Oh my God, my daughter's going away to school, we need to have this talk.'"
That evening's talk turning into "this whole way of talking," said Ms DeCesare. "It became a natural thing, it stuck with me for decades.
"There wasn't always a story with it, though. It was just that concept. When it was time to write this novel, I had to really create all of this story, to support the concept."
The close father-daughter relationship in Forks, Knives, and Spoons is another point that mirrors the author's life.
"In thinking back on favorite memories of Newtown, my dad always used to take me out for breakfast," she said. "That was our thing. We'd go to My Place a lot for breakfast."
In a way, the novel is a love letter to Newtown.
"I think that we always draw a little bit from life," Ms DeCesare said of writing. "I've definitely given Amy a couple of my traits, including being from Newtown. I really love having a character I love from a place that I love.
"When people say Newtown, Sandy Hook [and 12/14] is the only thing people think about now," she continued. "I thought this was a good, subtle way to remind people that this is a good, small, wonderful town. I have such a sweet, dear spot in my heart for Newtown.
"I had Amy come from there, and put in a few visits – maybe even gratuitously," she admitted, "but there are a couple little things in there because I wanted to include Newtown a little bit more."
She laughed during the phone interview that served as the core conversation for this story, ticking off favorite places generations of residents will recognize: Blue Colony Diner ("especially after dances with my friends," she recalled), The Ice Cream Shop, and the previous version of Pizza Palace.
"I remember going to the Pizza Palace when it was that tiny little place," she said of the longstanding Church Hill Road eatery that was greatly expanded in the early 1980s.
There were mentions of the flagpole, naturally, and even Newtown Congregational Church's former location at 31 Main Street.
"I got married in the Congregational Church, which at that point was at the current meeting house location," she said.
Following the "golden rule of writing," Ms DeCesare continued to write about something she was familiar with for her first release. Taking place from the late 80s until the mid-90s, Forks, Knives, and Spoons has its protagonist heading to and then going through college and postgraduation life during the same time frame as its author.
Its spot-on recollections of fashion – from a J. Crew rollneck sweater and Benetton clothing to Tretorn sneakers – to the era's technology (Thomas York had splurged on a Brother word processor for his college-bound daughter) and even its personal care items (who remembers Love's Baby Soft and Sea Breeze toner?) punctuate the story. Anyone can mention a Sony Walkman, who but remembers to pull up The Divinyls being popular at the same time Yaz and INXS were also on the charts?
Photo albums were her first source of materials, followed by online research.
"Unfortunately, a lot of my yearbooks were lost in a flood, so I didn't have them to go back to," Ms DeCesare said. "Those would have been great reference points, but I can picture a friend in that J. Crew sweater, and I had the Benetton sweater."
Setting her debut novel in the time period she chose was a conscious choice, Ms DeCesare said.
"I knew I could realistically convey the college culture of that time," she said. "But I also wanted to show some timeless truths about growing up despite technology."
The publication of Forks, Knives, and Spoons represents a dream come true for Ms DeCesare. The author of the nonfiction series Naked Parenting, based on her work as a doula, early parenting educator, and mother of three, Ms DeCesare said her two parenting books were "sort of accident books."
"Those were an offshoot of being a doula," she said this week.
She had has her articles featured on The Huffington Post, and in International Doula and The Key, among others, but it was her novel's publication that put her over the top.
"I didn't feel like an author until I wrote that novel," Ms DeCesare said. "This is where my heart has always been. "I've always wanted to be a writer.
"When I was in fifth grade, I actually sent out the first chapters of a novel. They were horrible," she continued, laughing. "That was when I got my first rejection letter."
She is already working on her second novel, with the hope that she will be able to become a full-time author.
It is not going to be a sequel to Forks, Knives, and Spoons, she said, and she couldn't share much else other than this: "It's a completely unrelated book, set in the current day, and the main character is a doula."
Sounds like Ms DeCesare is still following the golden rule of writing.
Leah DeCesare will be at C.H. Booth Library, 25 Main Street on Wednesday, May 17, from 7 to 8 pm. She will be reading from and discussing Forks, Knives, and Spoons. Published by SparkPress, the novel is available in paperback and Kindle formats from Amazon and Barnes Noble, among other outlets. It is also available as an audiobook, narrated by Vanessa Moyen, on Audible, iTunes, and Amazon. Read more…