Spotlight: Leah DeCesare, FORKS, KNIVES, AND SPOONS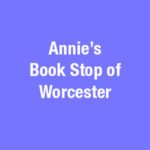 Annie's Book Stop of Worcester is happy to shine our spotlight this week on Leah DeCesare, who will be at our 65 James Street store, speaking and signing on Saturday, June 10, from 3:00 – 5:00 PM.
Leah DeCesare is the author of Forks, Knives, And Spoons and the nonfiction parenting series Naked Parenting, based on her work as a doula, early parenting educator, and mom of three. Leah's articles have been featured in The Huffington Post, the International Doula and The Key, among others. In 2008, Leah co-founded the nonprofit Doulas of Rhode Island, and in 2013 she spearheaded the Campaign for Hope to build the Kampala Children's Centre for Hope and Wellness in Uganda. In a past life, Leah worked in public relations and event planning. She now writes, teaches and volunteers in Rhode Island where she lives with her family and their talking cockatiel.
Thank you so much for joining us, Leah! Can you please tell us briefly a little more about yourself and your writing?
I'm a mom of three teens, 18, 16 and 13, and have been married for almost 23 years. I've always loved writing but strayed from creative writing after college and when I had small children. I got back to writing more regularly when I started a blog in 2010 which eventually led me to write the Naked Parentingbooks, but writing a novel is where my heart has always been.
What kind of research went into writing Forks, Knives, and Spoons?  What is your favorite research story? What cool facts and findings didn't make it into the book, but you loved discovering?
I didn't expect to need to do a lot of research for this book, but in fact I did quite a bit. I lived through the period in which the book is set – 1988-1994 – so I had the feel for it, but it's amazing how much I had to look up. How much did the early CD players cost? What year did that song/movie/Sega game come out? I used some old yearbooks and photo albums to help initially with general hairstyles and fashions but often had to search and dig deeper. Even having lived before cell phone and the internet, it's really hard now to envision life without that instantaneous connection and having any answer at your fingertips.
What was the inspiration for Forks, Knives, and Spoons? What were the steps you took to bring it from initial inspiration to the finished book?
That idea of labeling guys as forks, knives, and spoons is the real life nugget from which I spun the rest of the story. The August before I left for Syracuse, while out to dinner with my parents, my dad spontaneously gave me this last ditch talk about guys. At school, my girlfriends and I elaborated and invented and really used this system, it sort of went viral before viral was a thing. So through the years, the basic concept stayed with me but there was no story around it. When I finally sat to write this book, I had to build the characters and their arcs and let the Utensil Classification System (the UCS) become a backdrop and an organizing idea serving the characters and their growth.
What draws you to the particular genre or style that you write? What do you think draws readers to these kinds of books?
I am drawn to books about human nature and relationships – real, three-dimensional characters with flaws and heart. I love reading a story that is well-written, one in which I feel secure in the confidence of the writer and one that shares some wisdom and opportunity to reflect on my own life and life in general. In short, the sort of book that is conducive to discussion, a bookclub read.
In Forks, Knives, and Spoons, I wanted to share this story of friendship and believing in oneself while being entertaining, fun, and thought-provoking. It's been rewarding to hear from readers in different stages of life. I had a woman in her 40s tell me that it made her see her own relationship in a new way, a woman in her 60s tear up and say she wished she'd had this viewpoint when she was younger, and a mother sending her oldest off to college got seven books for her daughter's friends as graduation gifts because she wants them to hear the lesson in the book. To me, that's part of the job of fiction: helping us to make sense of the world around us, helping us see things from another point of view.
What is your favorite part of being a writer?  Of the whole writing and publishing process?  What do you think has been your greatest lesson in the journey thus far?
Since the time I was very young, I've wanted to be a writer. I would write poems and stories and even sent off the first five chapters of a novel to a Big Five New York City publishing house when I was ten years old. (My first badge as a writer – a rejection letter in fifth grade!) I've wanted to write a novel as long as I can recall so my favorite part is that I've actually done it!
I don't entirely agree with the Dorothy Parker quote "I hate writing, I love having written," but I do understand it. The day I finished my first draft was monumental – I had written a novel! Of course, all first drafts are crap and the book is dramatically different from those pages, but it was such a victory, such an accomplishment.
The lessons that have come from this have been tremendous – the saying, "You write your first novel to learn how to write a novel" has been true for me. I learned so much through trial and error, by hiring a developmental editor, taking crafting courses, reading books/blogs and by just writing. I'm approaching how I write my second novel in a very different way and it's already proving better for me. I'm told by the pros who've written stacks of books that it doesn't really get easier (sigh) and I can understand that yet at least I'm more confident in how I'm tackling the project this time.
How important has the New England setting been to your writing?
I grew up in Newtown, Connecticut and returned to another town in Fairfield County with my husband when we were first married. When people ask me "Where are you from?" my initial response is always, "Connecticut" even though I haven't lived there since 2001. That is where I'm from, that is home. We've now lived in Rhode Island for eleven years, so including Connecticut and Rhode Island in this story makes sense to me. I always say that the characters need to be from somewhere, I may as well make them be from somewhere that I know and love.
My work-in-progress is set in the Mystic and Stonington area of Connecticut, a place dear to my heart where my parents reside and where I've spent summers for my whole life. I imagine the New England states will always play some part in the settings of my books, though at some point it would be fun to explore other locals in my writing as well. I love to travel so it could be a good excuse for a few trips. Maybe I need to hang out in Provence or Tuscany for a a bit to do some setting research!
Where can people find your work? (Besides ABSW ;)–though they should totally check here first!)
Absolutely, Annie's Book Shop first! Forks, Knives, and Spoons is available on all the online outlets: IndieBound, Amazon, Barnes & Noble, Target, etc. and at other bookstores across North America. Ask your local bookstore or library to carry it if you don't find it there.
They're also on the bottom of my home page: leahdecesare.com
How can we follow your work, share your awesomeness, or otherwise stalk you in a totally non-creepy way?
Thank you, I love this question because I love being able to connect directly with readers and bookclubs. People can sign up for my monthly newsletter (I pair a book I recommend with a wine each month) at https://www.leahdecesare.com/subscribe and I'm in all the typical social media spots!
            Facebook page – https://www.facebook.com/leahdecesareauthor/
            Goodreads – https://www.goodreads.com/leahdecesare
Amazon- https://www.amazon.com/Leah-DeCesare/e/B00LNLVK2C/ref=sr_ntt_srch_lnk_1?qid=1475107485&sr=1-1
Pinterest – (I have a Forks, Knives, and Spoons board) https://www.pinterest.com/leahdecesare/
            Instagram – https://www.instagram.com/leah.decesare/
            BookBubs – https://www.bookbub.com/authors/leah-decesare
            Twitter – https://twitter.com/LeahDeCesare
Thank you, again, Leah, for being on our Spotlight blog!
Enjoyed learning more about Leah? Come meet her in person on Saturday, June 10, from 3:00 – 5:00 PM at Annie's Book Stop of Worcester, 65 James Street! Read more…