Interview with Leah DeCesare + #DebBallGiveaway of FORKS, KNIVES AND SPOONS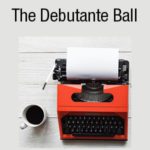 by Crystal King
Today on the Debutante Ball, I'm excited to welcome Leah DeCesare to talk about her debut FORKS, KNIVES, AND SPOONS, which New York Times bestselling author Ann Hood said that, "Reading Forks, Knives, and Spoons is like having your best girlfriend take you by the hand and tell you a story. A story you want to sit and listen to until the very end."
There are three types of guys: forks, knives, and spoons. That is the final lesson that Amy York's father sends her off to college with, never suspecting just how far his daughter will take this lighthearted advice. Clinging to her dad's Utensil Classification System as a guide, Amy and her skeptical roommate navigate heartbreaks and romances. In college and beyond, they label guys as nerdy spoons, arrogant, player forks and husband-material, dateable knives. On the quest to find their perfect steak knives, they learn to believe in themselves—and not to settle in love or life.
This book took me back to my own years of college, back in the early 90s. I found myself humming along to songs, laughing at the mention of a particular fashion style and smiling as I remembered the weirdness of college relationships.
You too can have a chance to get a copy for free! To enter to win, simply retweet on twitter:
Or you can share our post from Facebook. We will select and contact the very lucky winner on Friday, May 12th at noon (US Only).
Now, on to the interview!
Talk about one thing that's making you happy right now.
I feel like I haven't stopped smiling since FORKS, KNIVES, AND SPOONS has been released. Amazon shipped pre-orders about a month early and I've never spent so much time on Facebook! People near and far, friends from all times and corners of my life, have been posting, sharing and sending notes of congratulations. It has been touching to feel supported in something that is so important to me.
Having the enthusiasm of other authors, and early readers and reviewers has been completely smile-inducing and I am overcome with joy and gratitude. Read more…