Good to meet you…author Leah DeCesare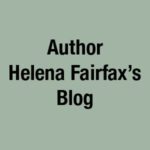 By Helena Fairfax
One of the best things about keeping this blog has been the amazing people I've met from all around the world because of it. A few months ago Leah DeCesare got in touch through my contact page. It was lovely to meet her – and even more of a pleasure when I found out Leah was about to take a trip to Uganda (the country where I was born) to visit the Kampala Children's Centre.
I'm delighted to welcome Leah today, and I'm really looking forward to getting to know her!
Where do you live, Leah? I live in East Greenwich, Rhode Island. I'm here 11 years now – but as far as "real" Rhode Islanders are concerned, I'm not yet an official Rhode Islander 🙂
Where is your favourite place in the world? Traveling is one of my favorite things – so I could name any number of places I've loved visiting, but my favorite place is a little beachside community on the Connecticut coast. Groton Long Point is where I've spent my summers my whole life, and it is a little piece of paradise in the Long Island Sound.
That does sound heavenly!
Being a writer is a great job. What's the worst job you've ever had? In desperation one summer, I accepted a job as a door-to-door encyclopaedia salesperson – I'm not kidding! I did it for exactly ONE DAY and went back to waitressing. What a painful job that was. Clearly it was before Google, but it didn't make the job any less difficult.
That must have been a total nightmare. Well done for at least giving it a try! Read more…