Just Five Questions with Leah DeCesare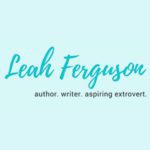 I'm delighted to introduce you toLeah DeCesare. She's the award-winning author of Forks, Knives, and Spoons and the nonfiction parenting series Naked Parenting, based on her work as a doula, early parenting educator, and mom of three. Her articles on parenting have been featured in The Huffington Post, Eligible Magazine, Simply Woman, the International Doula, and The Key, among others. I've gotten to know her this year, and can tell you that she is warm, outgoing (and positively has the best smile ever), as well as takes the time to write kind, handwritten notes, which is something that I keep thinking I'd like to do, especially now that I see how great it is to get them from people like Leah.
In 2008, Leah cofounded the nonprofit Doulas of Rhode Island, and in 2013 she spearheaded the Campaign for Hope to build the Kampala Children's Centre for Hope and Wellness in Uganda.

In a past life, Leah worked in public relations and event planning. She now writes, teaches, and volunteers in Rhode Island, where she lives with her family and talking cockatiel.
Before we start, let's learn a bit about her debut novel, Forks, Knives, and Spoons, which won both the 2017 Readers' Favorite Gold Medal for New Adult fiction and the 2017 IAN Book of the Year Award for Outstanding Women's Fiction.
For readers who love Adriana Trigiani, Jennifer Weiner and Liane Moriarty, Forks, Knives, and Spoons is a light-hearted, thought-provoking coming of age story that takes readers on a nostalgic journey back to the 1980s and 1990s. Romantic, witty and warm.
There are three kinds of guys: forks, knives, and spoons. That is the final lesson that Amy York's father sends her off to college with, never suspecting just how far his daughter will take it. Clinging to the Utensil Classification System as her guide, Amy tries to convince her skeptical roommate, Veronica Warren, of its usefulness as they navigate the heartbreaks and soul mates of college and beyond.
Beginning in 1988, their freshman year at Syracuse University, Amy and Veronica meet an assortment of guys―from slotted spoons and shrimp forks to butter knives and sporks―all while trying to learn if the UCS holds true. On the quest to find their perfect steak knives, they learn to believe in themselves―and not to settle in love or life.
Metal artist Katie Mack is living a lie. Nine years ago she ran away from her family in Raleigh, North Carolina, consumed by the irrational fear that she would harm Maisie, her newborn daughter. Over time she's come to grips with the mental illness that nearly destroyed her, and now funnels her pain into her art. Despite longing for Maisie, Katie honors an agreement with the husband she left behind—to change her name and never return.
But when she and Maisie accidentally reunite, Katie can't ignore the familiarity of her child's compulsive behavior. Worse, Maisie worries obsessively about bad things happening to her pregnant stepmom. Katie has the power to help, but can she reconnect with the family she abandoned?
To protect Maisie, Katie must face the fears that drove her from home, accept the possibility of love, and risk exposing her heart-wrenching secret.
Congratulations on celebrating the first birthday of your book baby, Leah! I'm excited for this round of Just Five Questions with you.
When faced with setbacks or rejection with your writing, what was something that made you push through?
Setbacks and rejections come in many forms from mean reviews to bunches of "nos" from agents, editors, press, etc. — rejection is part of this gig. I'm an optimist by nature so when I got my first agent rejection my response was to proudly say, "I'm now officially an author! I've been rejected!" Of course, after many of those I had way less cheery reactions, but I'm not one to wallow or pity myself, instead, I feel a feeling then get back to work because this is what I want to be doing. I'm not a patient person and I know that this is a slow business. I continually have to remind myself that it doesn't go at the pace I'd like and that being a writer is hard but it's what I've chosen and what I love so I keep on doing it, keep putting my butt back in the chair and plodding through despite what comes at me.
That's great advice that most writers need to hear. What methods do you use to balance the quiet life a writer needs to work with the necessary business of being a person with friends, family, and social responsibilities?
This is one of the hardest parts, isn't it? That elusive balance. I can't say I'm really great at it but I'm happy. Every day is different from the others and I'm awful at declining an invitation to have breakfast or lunch out with a friend, but somehow, I get the work done.
A few things I do: I try to tidy up before I get to work, it helps me ease into the day and I feel better in a clean space. I also try to push all of my emails and social media to the end of the day, or I'll fit it in when I'm waiting to pick up a kid or sitting at a doctor's office. I need fresh locations so I often move around to different rooms in the house for a few days at a time, and I love when I have the chance to go away for three or four days alone with some Trader Joe's frozen food, a bag of salad, my writing stuff and "permission" to do nothing but write.
I love that tip of pushing the emails and social media to the end of the day. What is your morning routine? 
Since I read this series of blogs, I knew this question was coming and I feel a little guilty saying I don't have a great morning routine. I've read books and blogs and expert advice about the importance of a morning routine yet it's not my strength. Most days, I do a little yoga in bed before even getting up then I listen to whatever audiobook I'm "reading" while I get ready or fold some laundry before heading downstairs. My husband and I both work from home so most mornings we eat breakfast together which is such a treat to me. After breakfast, I either head out to play tennis or I tidy up and get started at my computer. I guess there's a tiny bit of a routine in there despite my inconsistent schedule. 
Oh, you know inconsistency has a home here with me! What's your favorite form of exercise? (And on the flip side, what's your favorite way to be lazy?)
I love tennis! It varies (see above answer) but I play about two-three times a week and five days a week in the summer. I protect my time on the court and I'm always a little sad when our matches are over. Since college, way before it was popular, I've practiced yoga. I remember the spark of joy I felt at my first class, how I left lighter, centered, and ready to tackle anything — I was hooked!
As for being lazy, I consider downtime as taking care of myself and I do things that nourish me and make me happy. Often being productive is how I feel best and most relaxed but I also read a ton, it's been a constant pleasure my whole life, and rarely a day goes by that I haven't read at least a little bit. (Find me on GoodReads to see what I'm reading). I'm also a fantastic napper. The kids laugh at me because I call an afternoon rest my "horizontal time," but there's nothing like a quick snooze to perk me up and keep me going until my way-too-late bedtime!
Do you have any go-to methods for eating well? (And on the flip side: what are your food vices?)
My best method is my husband. A couple of years ago, after cooking for the family for 16+ years, I admitted to myself and my husband that I really don't enjoy cooking so Nick (aka my steak knife!) said he'd do it. Now the joke is that my kids pretty much have no memory that I ever cooked but I'll take that in exchange for no longer being the chef. We value family dinners and even with three teenagers (one's off at college now) we've prioritized eating together and make it happen almost every night of the week.
It may sound odd but being active and exercising actually makes me eat better, after being healthy in a physical way, I don't want to put junky stuff into my body. I feel best when I'm eating nutritious foods and that's the majority of our meals, but I believe in guilt-free and pleasurable living so I also savor my treats. I keep a little stash of chocolates in my desk for those moments when I just want something sweet (currently, I have a pilfered bunch of Reese's Easter eggs) and my favorite indulgence is ice cream. Whenever I have it, I have a huge heaping bowl, but we don't have dessert most nights simply because it was never the norm and we kind of just don't think of it.
Thanks so much for having me on your blog, Leah!  Read more…